Rabbit Round Up
Rabbit Round Up
21 July 2021 (by charlottedowson)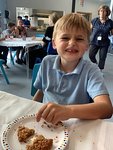 The Rabbits have had a wonderful day of fun and games yesterday. The awards ceremony for the End of Term awards was held yesterday, and two of our boys were awarded a prize! Lennox got the Super Star award for fantastic progress with his independence skills and communication, and Zach won the Lunchtime award! We're all so proud of everything that all of the children have achieved this year - it's been tough but they have all been amazing!
The afternoon was all fun and games, and even included a trip to the Kings
Mill cafe to enjoy a piece of cake and some juice. The staff even got to enjoy a scone with jam and cream! Frankie's face certainly says it all!