Residence Roundup
Residence Roundup
18 May 2022 (by charlottedowson)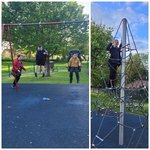 We have been making use of school facilities this week, swimming, use of the swing room the hall with a few rounds of crazy golf.
We have also taken advantage of the good weather with walks along the seafront in Bridlington and trips to the park.
Also cooking flat bread pizzas which were enjoyed by all.
Garden update
Our garden/ crops are coming along, and we are starting to see the plants growing beautifully.