Butterfly Sensory Stay & Play
Butterfly Sensory Stay & Play
25 May 2022 (by charlottedowson)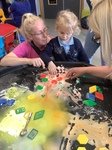 This week Butterfly class have had Sensory stay and play with parents in class. The children explored lots of sensory play such as cornflour slime, jelly and ice , water play, mud kitchen and sand play. They also explored our new playdough station where the children are independently learning how to make playdough.
The children were also able to access the foot spa and the Magic Carpet. At the end of the session both parents and students sat round our role play fire and pretended to roast marshmallows whilst signing and signing the goodbye song.
Excellent session and thank you to everyone who attended.