Bendrigg Update
Bendrigg Update
11 October 2019 (by charlottedowson)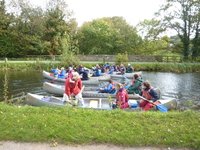 and the week continued ……..
Wednesday:
Another great night, everybody slept very well and we had a lazy get up. No rush today as the day's activities were all based at the centre. We split into two groups for the day, each group got to go on the climbing wall, abseil, zip wire and sensory swing, so a full and busy day. The climbing wall saw everybody pushing themselves to the limit and challenging their nerve. Lots of thinking skills and problem solving to find the best way up the wall. When we weren't climbing we were holding and pulling the ropes, supporting those climbing up. The fun part was abseiling down again. The zip wire was outside and we managed to all stay dry, there was lots of squealing and shrieking!
The evening activity was the indoor caves and ball games in the hall. Everyone in bed by 9:30, nobody needed any rocking.
Thursday:
Another peaceful night…. All worn out from the busy schedule of activities. Unfortunately the weather was again forecast to be wet but that wasn't going to dampen our spirits we were going to be messing about on the water. The activity of the day was canoeing along a section the Lancaster canal at Tewitfield. We canoed in Canadian canoes fastened together in pairs. It was lovely and peaceful out on the water and we didn't get rained on. We had to paddle hard on the way back as the wind had picked up, though some paddled better than others!!
The evening activity was spent singing songs and roasting marshmallows around the stove, in the Tee-Pee.
Once again everyone was in bed by 9:15pm – all exhausted. A great end to a great week.
Friday
HOME TIME.
We had to be up and busy, stripping our beds and packing our cases. We have all had a great time, you wouldn't believe all that we have achieved. Everyone has tried everything and challenged themselves, all the tutors and staff are super proud of us all.