Senior 2
Senior 2
20 December 2019 (by charlottedowson)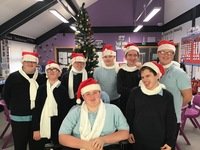 What a fantastic term we have had in Senior 2, full of learning and fun! We have learnt how to keep our bodies and minds healthy and strong, enjoyed lots of great PE sessions and made

healthy

meals for ourselves as part of this topic. We have all worked hard on our Learning for Life and Independence Skills; raised money for charity and for our Enterprise fund with our Takeaway and Recipe Books; and did lots of work experience including Sports Leaders and Gardening. Some of us went on a lifeskills residential trip to Rosedale; others

enjoyed

stays in the Residence. We all had lots of fun on our Forest Schools Day and our Christmas Day Out to bowling and Pizza Hut. All that remains is to say a big thank you to all our families and friends for your continued support, which all the pupils and staff appreciate very much. MERRY CHRISTMAS AND A HAPPY NEW YEAR TO YOU ALL!