News from the Foxes' Den
News from the Foxes' Den
26 February 2020 (by charlottedowson)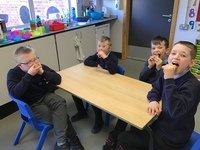 News from the Foxes Den....​
We are very excited to be back at school, after our break, to see what fun we will be having this half term.
This week we learnt all about lent, but we weren't too keen on giving up any of our favourite things!
On pancake day we got to design our own pancake toppings. Then, we all got to eat some! Some of us chose sugar and some had jam. They were delicious!
We wish every day was pancake day!