News from the Foxes' Den...
News from the Foxes' Den...
6 March 2020 (by charlottedowson)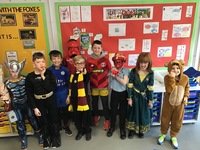 News from the Foxes' Den...
Hi, it's us Class Fox. Did you not recognise us in our fabulous costumes?
This Thursday we have had a very exciting day in school. For World Book Day we all got to dress up as our favourite characters. As you can see, in class Fox we had Harry Potter, Batman, Curious George and many others.
This morning was great because we got to listen to a story from each class, as well as perform our own story 'The duck that ran away'. After, we got some hot chocolates with cream and marshmallows to support the Yorkshire Air ambulance. Yum!
Then this afternoon we listened to Funny Bones from the student centre. We got to join in and do some dancing.
We really enjoyed today in Class Fox and we hope you've enjoyed reading all about it!