Happy Hedgehogs
Happy Hedgehogs
10 March 2020 (by charlottedowson)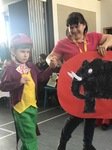 The Hedgehogs have been very busy with World Book Day as well as our usual busy daily activities.
World Book Day saw lots of our children dress up - they looked fab! We had tonnes of fun reading different books and sensory stories. The children enjoyed creating the animals from the book using lots of glue, paint and textures. These were used in the World Book Day performance which was a great success.
The children have been able to enjoy the outside area much more as the weather has improved - we are all looking forward to Spring!