News from the Foxes' Den...
News from the Foxes' Den...
13 March 2020 (by charlottedowson)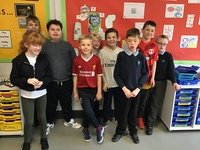 News from the Foxes Den...
This week for Sports Relief class Fox have come dressed as some of our favourite sporting heroes, or just as ourselves because we are all great at sport in Class Fox!
In preparation for Sports Relief this week, we have been learning the Sports Relief song, Game On. It's very catchy, sorry Mum if you're now singing it!
To raise money some of us have bought wrist bands. Then this afternoon we have lots of different sport activities to look forward to, we even have a special guest coming.
After an exciting day we are all ready for the weekend in Class Fox, ready to rest for all the interesting and exciting things next week will bring.