News from the Foxes' Den .......
News from the Foxes' Den .......
19 March 2020 (by charlottedowson)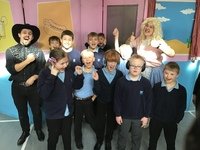 News from the Foxes Den..
.
This Tuesday has been a bit different for Class Fox. Instead of our usual Tuesday routine we had a performance from the Kinetic Theatre called 'The Light Fantastic'.
We learnt some interesting facts about how light travels. We also managed to guess which character was actually an alien! Then after, we all got to have our photo with the actors. Wow, fun and educational!
Class Fox really enjoyed the show and we hope you've enjoyed finding out all about our day!